3D printed homes: Is this the future of construction?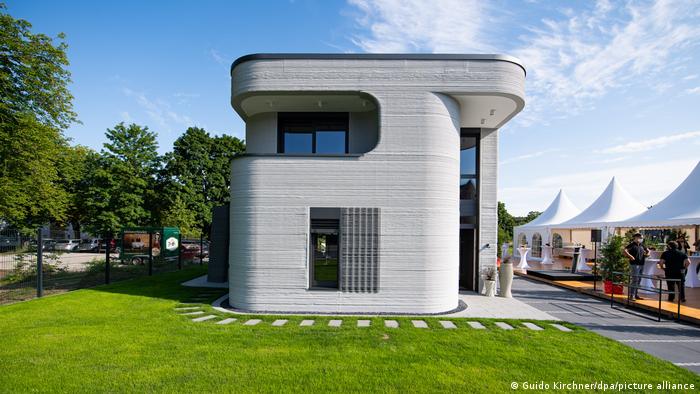 The popularity of 3D printed homes has increased significantly in recent years. And although many people are still surprised by the fact that 3D printed homes are a reality in 2021, countries around the world started with their construction and 3D printed homes are already hosting their first tenants. This potential solution for efficiently building attracts the attention of different companies from the construction industry, that see their applications within the private, commercial, industrial and public sectors. Construction 3D printing is leaving its prototyping phase and taking 3D printing to the next level. So, what exactly are 3D printed homes and what is their future in the construction industry?
The Construction of 3D Printed Homes
3D printed homes are buildings made using different types of technologies with 3D printing as a construction method, also known as Construction 3D Printing. One of the most popular tools used for this is a 3D printing machine in form of a large robotic arm with a nozzle that extrudes a specially formulated material such as cement, wax or foam. Based on a house design, the material is being printed in layers until what looks like a real house wall is created. So far, the largest European 3D printed home is located in Belgium and it was built using Europe's biggest 3D printer. This two-story house featuring 90m² was entirely printed in one piece and it is three times stronger than a house built with quick building blocks. At the same time, it required 60% less material than a traditionally constructed building of its size.
Meanwhile, China has set the record in the tallest 3D printed building in 2015 (a five-story apartment building in Suzhou), while Dubai recently became home to the world's largest 3D printed building - a two-story administrative building for the Dubai Municipality. It is 9.5m tall with an area of 640m². The 3D printer used on this project was moved around the construction site by a crane, to finish constructing various segments of this project, extruding successive layers of a gypsum-based mixture.
The Costs and Benefits of 3D Printed Homes
The biggest advantages of this technology are decreased construction time, lower costs and reduced environmental impact. Instead of taking weeks or months to finish the construction, 3D designed homes can be done in just a short space of time, as little as 48 hours. Using giant 3D printers saves time and costs, therefore making it more affordable. Experts add that after the house is built it is more energy-efficient and the prices of these homes are about 40% lower than traditional homes.
Environmental Impact
Construction and demolition waste comprises the largest waste stream in the EU. Their waste levels grew more than 10 times faster between 2005 and 2018 compared to the 1990-2005 period. Additionally, for every 1 m² of wall construction, an average of 350 litres of water is required. The 3-D printers can drastically reduce material transport costs, construction waste and water usage. By doing so, this technology can cut down the carbon footprint associated with house construction.
3D printing solutions only allow melting and binding the amount of material you need to produce a certain part of the house model, which helps with waste management. It can rely on sustainable bioplastic that can be shredded entirely and re-printed into a new design, like the one used as printing material for the 3D print urban micro cabin in Amsterdam.
Some companies, including Italian WASP, found a way to use renewable energy sources in running 3D printers while building homes from locally sourced material. The best example of a zero-waste building made by this company is named Tecla. It is the world's first 3D printed house made completely from raw earth. Tecla is designed to be entirely self-supported – it requires no other framework structure and can hold its own weight.
Challenges for 3D Printed Homes
The improvements that 3D printed homes are making in the construction sector still needs time to be well demonstrated. One of the challenges 3D printed homes face is meeting the state laws and regulations, with safety being the top priority. The construction companies will also have to make an effort to prove the safety and sustainability of these homes to homebuyers, who are used to the old traditional ways of building. Other than that, the companies may face a labour shortage, as the employees involved in these projects must be high-qualified and well-trained to operate the machine. This can, additionally, require more costs and time than usual.
Final thoughts
3D printing technology is making changes in the way we see the construction industry. The future of home construction may be directed toward a 3D printing revolution, considering the many advantages it brings. Using half the time and costs compared to conventional construction, it can revolutionise the industry. With the increasing demand for affordable housing, the rising number of homeless people and victims of natural disasters, and, also, all the challenges we face regarding climate change, 3D printed homes can provide much needed sustainable solutions.
With global warming, waste disposal and natural resource depletion being just some of the challenges facing our planet, we partner with clients that are serious about tackling these challenges, head on. For more information or to discuss your business needs, please contact Irfan Lohiya on:

T: +44 121 285 6070
M: +44 7580 170 406
E: ilohiya@greenrs.co.uk
W: greenrs.co.uk